On a whim, staying up later than normal, high school math teacher Heather Allen decided to turn on local late-night news on a pleasant fall evening. Unbeknownst to Allen, a single evening newscast on September 15, 2016 would ignite a series of events and medical insights that she now believes have saved her life.
As the news of the Healthy Nevada Project seeking community participants for a groundbreaking new population health and genetics project unfolded in front of her, Allen grabbed her smartphone and signed up immediately. She exclaimed, "At first it took a few tries to log on, but then I got in and got my appointment!"
And she wasn't the only one inspired to take part. A record 10,000 participants signed up within the first 48 hours of open enrollment. A few weeks later, this lively teacher was spitting into a small tube and was thrilled to participate in a history-making health study in her community.
When Allen originally signed up for the Healthy Nevada Project, she was feeling pretty good health-wise. She was coming off a tumultuous personal roller coaster ride in the years prior, combating a host of confusing health challenges that often left her fatigued and scared for the future.
Unfortunately her feeling of good health changed by the time she arrived at her scheduled appointment to collect her saliva. Allen was then trying to shake a lung infection that was holding on tight to her weakening body.
She made it to her appointment, spit in the tube, and left hoping the results might provide some sort of insight into why she kept getting sick and just couldn't seem to function through daily life like everyone else.
A few weeks later, her results arrived in her email inbox. She quickly learned about her ancestry and remembers feeling excited although "her body struggled to function that day." She enjoyed telling her family about her ancestry results as they were surprising and entertaining, but soon after thoughts about her DNA and any impact it might have on her health quickly faded away.
By late April of 2017, Allen was experiencing one of the worst years of her life. Inexplicable symptoms were plaguing her body. Doctors worked hard to find solutions, but nothing seemed to help, leaving everyone perplexed as to why she was experiencing such a wide range of symptoms and conditions.
Meanwhile, 23andMe had received Food and Drug Administration (FDA) approval to test for ten additional diseases or conditions. And because Allen had taken a 23andMe test as part of the Healthy Nevada Project, she was offered the new health insights at no charge.
Unexpectedly, after a frightening visit to the local emergency room, this time because she was having breathing problems, Allen received an update from her genetic test results.
This time, there was additional information about her personal genetics results which would turn out to be the most life-changing information she would ever receive.
Allen's expanded genetic results alerted her to a possible Alpha-1 Antitrypsin Deficiency (commonly referred to as Alpha-1).
"It was one heck of a week, my head was spinning," Allen remembers.
She immediately made an appointment with her doctor to learn more. Tests confirmed that she had Alpha-1 and she immediately commenced treatment for this heredity condition that is passed from parent to child.
The Alpha-1 Foundation describes the condition as "a severe lack of a protein in the blood called alpha-1 antitrypsin (ATT) that is mainly produced by the liver. The main function of ATT is to protect the lungs from inflammation caused by infection and inhaled irritants, such as tobacco smoke."
IN ADDITION, ALPHA-1 IS:
A genetic disorder that leads to low or undetectable levels of ATT
May cause lung disease in adults
May cause liver damage that gets worse over time in adults, children and infants
Often goes undetected for years
Can be treated but not cured without a liver transplant
Is easy to find through a blood test
Knowing the name of the dragon she is trying to slay, Allens's battle for stable health has now swung into full force. She is receiving weekly infusions and slowly beginning to improve and is no longer scared of what the future might hold. She credits all of this to what she calls "a once-in-a-lifetime opportunity."
"I believe, if not for the Healthy Nevada Project and 23andMe's FDA approval to release the additional health risk reports, I would be dead," she explains.
Staying home and feeling sorry for herself is not an option. Allen's young daughter inspires her to keep teaching and attack her condition head-on. Tapping into her natural leadership skills, Allen has wasted no time immersing herself into Alpha-1 advocacy. To date, she has been involved in requesting a State of Nevada proclamation for November's Alpha-1 Awareness month and she is spreading awareness by heading up social media outreach for her local Alpha-1 support group.
Accepting a recent challenge to record and share a personal Alpha-1 awareness video, Allen recorded her story and shared her challenges and breakthroughs on her Facebook page. After two weeks, her nine-minute video post has been shared 260 times and seen by more than 15,000 people.
Why Allen decided to turn on her TV and watch the local evening news on that serendipitous night remains a mystery. But, she knows the power of the Healthy Nevada Project will continue to grow in breathtaking ways that will forever impact the lives of Nevadans.
About Heather Toepfer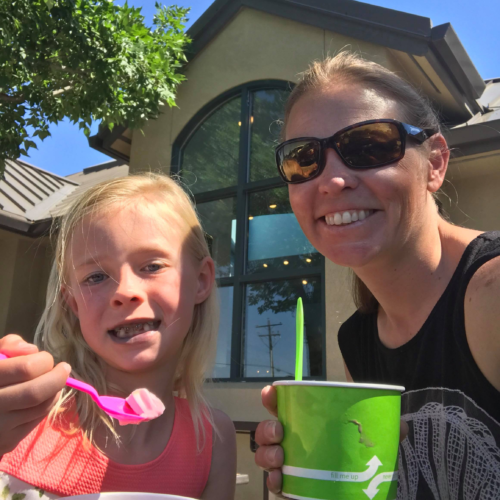 Heather Toepfer is a mathematics teacher at the Coral Academy of Science in Reno, NV. She was part of the original 10,000 cohort in the first phase of the Healthy Nevada Project.